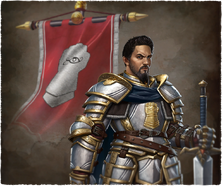 The Order of the Gauntlet doesn't punish the criminal before the crime is committed. When evil arises, members of the order strike and strike hard, but they leave the ores alone in their mountains and don't disturb dragons in their slumber. After Helm's Hold, Javen found this philosophy flawed. Evils unlooked for can breed in the shadows, growing stronger until they attack. This seemed particularly true of otherworldly threats, such as portals to fiendish realms, evil spirits that seek to possess the living, and the corrupting influences of alien planes.
Javen says he was ruminating on this when he received a sign of Helm's return. In the main chapel, the faithful had erected a new symbol of Helm after the last had been desecrated. Javen says he was gazing at this symbol and meditating on his order's failure when Helm's unblinking eye wept tears of gold.
Human Paladin of Helm
Community content is available under
CC-BY-SA
unless otherwise noted.